Our Grease Management Range
EZ Clean - Passive Grease Trap
The Ecotec EZ clean passive grease trap is designed for installation inside and outside your building, it has a smooth, clean, hygienic grey polyethene exterior with removable internal parts for easy cleaning and desludging. The unique air vent on the lid facilitates the separation of fats, oils & grease from the wastewater.
ECO-T Underground Grease Traps
Commercial kitchens and food processing establishments generate a significant amount of FOG's from their specific daily operations. If the FOG's are not treated before entering the main drainage network, it can lead to major issues with your drainage and have an adverse impact on the local environment and business operation.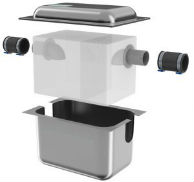 G-Bag - Grease Trap
Wastewater from commercial kitchens is contaminated with FOGS (fats, oils and greases). The introduction of FOGs and food solids into the general drainage/sewage system is detrimental to its proper function and has been shown to be a significant cause of blockages, restrictions and flooding.
Fatstrippa
Fatstrippa is a unique patented, non-mechanical Fat, Oil, and Grease (FOG) removal system. Fatstrippa is a cost-effective technology that offers consistent high-quality separation of "FOG" from kitchen wastewater. Fatstrippa operates with no mechanical or moving parts and doesn't require costly chemicals or enzymes.
Foghog Trap with Filter basket
Foghog range of grease traps is designed for installation below ground. There are 2 models in the range which both feature a robust integral filter basket, designed to retain/trap 25kg of vegetable matter and solids that may enter the drainage system via washing & food preparation facilities.
Epoxy Coated Grease Trap
Epoxy-coated Steel Domestic Grease Trap. Durable corrosion free, high-quality steel construction with fully welded seams for improved strength and durability. Complies with BS EN 1825-1:2004 and designed in accordance with BS EN 1825-2:2002. Can be used indoors, outdoors or underground.
Jumbo - fat Oil & Grease Trap
Fats, oils, grease and food waste cause major problems in our drains and sewers. When disposed of down kitchen sinks, toilets or drains, this waste congeals to form blockages which can lead to flooding and pollution.
FOGI - Fat, Oil & Grease Interceptor
FOGI design will effectively intercept (FOGS) fats, oils, greases and solids before they enter a wastewater drainage system in so supporting the effectiveness of both the drainage system & the final treatment process.
Jumbo AG - Above Ground Trap
Our Jumbo AG Above Ground Traps is installed by catering establishments, food processing facilities and any other locations where there is a need to protect the drainage system from blocking up due to FOG's solidifying.
Eco-V Vertical Grease Separators
The ECO -V design works on a well tested vertical separation process and its single stage design has proven to work effectively in the basic separation of FOG's and offers a simple cost effective solution to FOG's/Grease Management.