Specialist suppliers of wastewater & grease management products & services to the Irish catering & food industry
Unrivalled Advice & Service
FIND THE RIGHT PRODUCTS...RIGHT NOW!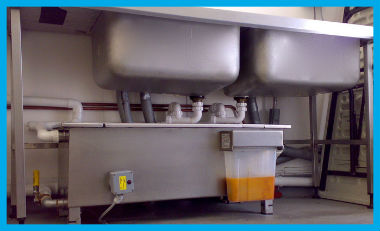 Grease Traps
Fats, oils, grease and food waste cause major problems in our drains and sewers. When disposed of down kitchen sinks, toilets or drains, this waste congeals to form blockages which can lead to flooding and pollution.
Drain Management
An Ecotec drain /sink strainer captures all the food scraps, grease and solid waste that would otherwise clog your floor drains. You can get rid of all the dangerous (and expensive) chemical pipe cleaners in your restaurant or commercial kitchen
Silt Management
The build-up of silt and dirt in your drainage system is a major problem, particularly from hard standing areas. The jumbo silt trap is particularly effective at removing silt and sand before it enters the drainage system.
Pumping Solutions
A package pump station is used when gravity drainage on the site cannot be achieved, the waste from the site flows into an underground storage chamber, where it is then pumped to the main sewer. Package Pump Stations can be used for both foul water (sewage) and surface water applications.
Tanks & Chambers
Ecotec offer an extensive range of High-Density Polyethylene Underground Tanks from 1800 to 10,000 liters all of which can be installed in granular surround as against concrete. They are designed to be able to be installed using just a Mini Digger / Excavator having a low profile.
Odour Control
Restaurant Grease and Odor Control is a breakthrough drain maintenance solution that works effectively to eliminate drain and trap odors, keep sewer lines clear and prevent grease related back-ups/overflows. It is safe and effective in any environment including Restaurants, Hospitals and Hotels.
Our Happy Clients
Our Most Popular Products
We are one of the fastest growing water and grease management retailers in Europe. Our ever-growing range is manufactured to the highest standards and brought to you at the best prices possible. Couple that with our first class customer service and you'll soon discover what makes Ecotec difference.
Found it cheaper elsewhere? We are confident that our prices are industry-beating and we check our competitor's sites regularly. However, if you've seen it cheaper, we want to know about it and we will do all we can to beat that price!
SECURE CHECKOUT
Here at Ecotec Store, we take your security very seriously that's why all payments are processed securely by Paypal for your protection and peace of mind.